Drifter Lager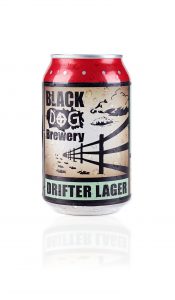 Drifter Lager
Drifter is a new world lager originally based somewhere between a helles lager and german pilsner.
This brew has combined pilsner, carapils malt along with a touch of malted wheat and hopped with Aussie Enigma and Topaz grown by Hop Products Australia.
Our Macca was a drifter, roaming the neighbouring farms to stop in a say hello to his fellow canine compadre's often spotted running along fence lines.  Drifter aka Macca the Black Dog legend will live on.
Food Match
This beer is very easy drinking on the palate and pairs well to a number of things, but grilled whiting with a side of chips works very well
Brew Pedigree
Malts: Pilsner, Carapils and Malted Wheat
Hops: Flavour and Aroma- Topaz and Enigma
4.7%  15 IBU
Availability Draught and 330ml Cans